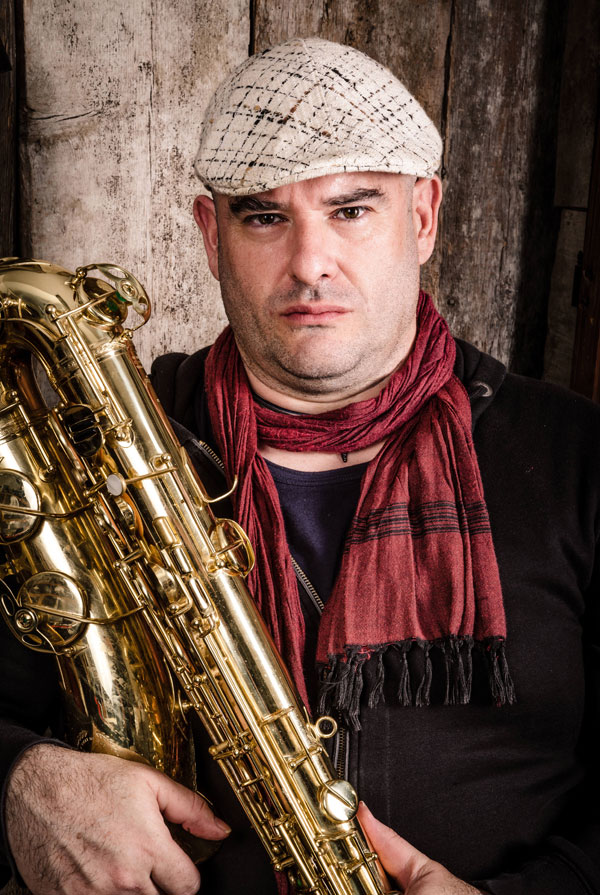 Mediterranean Trio of Gavino Murgia, jazz saxophonist.
He began playing the alto sax at the age of twelve. As a child he has the opportunity to study and experience jazz and classical music very early on.
At fifteen he began playing with various pop and funky groups and collaborating with some theatrical companies in Sardinia, he attended seminars in Nuoro and Siena to be part of the Italian Youth Jazz Orchestra as first tenor sax.
This immersion in the world of Jazz allows him to increase his own experience and to know many musicians with whom he performs countless musical experiences in formations of all kinds duo, trio, quartet etc.
Sardinia with its deep musical roots is constantly present in its sound path. He played as Tenore in the role of Bassu, already practiced in adolescence and the traditional study of the Launeddas, merge over time with the African American music finding a new and original path. Alongside the Soprano and Tenor sax, he also combines the Baritone, Flutes and Duduk sax.
Musical Collaborations
He has played and recorded among others with: Rabih Abou Kalil, Bobby McFerrin, Mal Waldron, Michel Godard, G.Trovesi, Antonello Salis, Al di Meola, Djivan Gasparian, Araik Bakhtckian, Salvatore Bonafede, Paolo Fresu, Famoudou Don Moye, Roswell Rudd, Sainko Namtcylak, Omar Sosa, Danilo Rea, Babà Sissokò, Badara Seck, Hamid Drake, Franck Tortiller, Luigi Cinque, Mauro Pagani, Gianna Nannini, Massimo Ranieri, Andrea Parodi, Vinicio Capossela, Piero Pelù, Bertas, Tazend, Luigi Lai, Hosoo Khosbayar, Solis string, NOA, Gil Dor, Zohar Fresco and many others.